In-car navigation technology has grown by leaps and bounds in recent times. After all, it wasn't that long ago that we were all forced to navigate using paper maps, or worse still, stop and have to ask for directions. Thanks to GPS technology, it is now easier than ever to know exactly where you are and navigate your way through the world no matter what vehicle you drive. Nonetheless, Lincoln has taken things a step further by partnering with Waze to allow you to use this popular app's navigation functions through your vehicle's SYNC 3 touchscreen system.
Smarter Navigation with Waze
Waze is one of the world's most popular navigation apps and for good reason. By taking advantage of real-time user input and data, the app allows you to optimize your driving route to avoid traffic, accidents, weather and other potential hazards. The fact that the app crowdsources up-to-date traffic and navigation data from its thousands and thousands of users makes Waze a real game-changer by ensuring that users constantly receive the most current road and traffic information.
This information can then be used to help you plan out your route by showing you alternative routes that may be able to save you time or allow you to avoid traffic congestion and potentially hazardous road conditions. Still, this is far from the only way that Waze is helping to simplify people's daily commutes.
After putting in your destination and setting off on the road, Waze will constantly use its crowdsourced data to ensure you make it to you wherever you're going on time. As you're driving, the app is constantly searching for the optimal, fastest route, and it will automatically update your driving directions to route you around traffic congestion, accidents or anything else that could cost you time.
You can also use the Waze app ahead of time to check out the road and traffic congestions and make sure you give yourself plenty of time to get where you need to be. In fact, you can put your destination and the time you need to arrive into the app, and it will provide you with an automatic notification when it's time for you to leave. In this way, you can be aware of any potential delays beforehand so that you can leave early enough to still make it there on time in spite of the delays.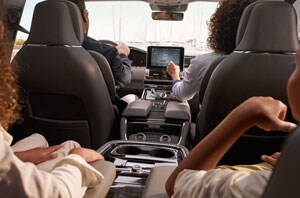 Of course, the reason the Waze navigation system is able to work so well at optimizing your driving route is down to the fact that it relies on crowdsourced user data. This means that you can automatically report hazards, traffic and other potential problems to the app in order to help other drivers to avoid them. By passing on this type of traffic data, you are both helping to improve the app's functionality and chipping in to help your fellow motorists avoid whatever traffic problems you're currently facing.
Bring Waze to Your Lincoln SYNC 3 System
As part of its partnership with Waze, Lincoln has made the navigation app available on all vehicles that feature the SYNC 3 touchscreen system. Drivers can access Waze through the AppLink and then use almost all of the app's functions directly through their vehicles touchscreen. The various Waze functions can also be operated by voice commands, which ensures that you can keep your eyes on the road and hands on the wheel.
If you've not yet tried using Waze's crowdsourced navigation functions, you're definitely missing out and potentially increasing the time you have to spend behind the wheel every day. Still, there is no better place to take advantage of Waze than behind the wheel of a luxurious all-new Lincoln. Therefore, we would like to invite you to stop by Gwinnett Place Lincoln, where you can check out our entire range of new and used vehicles and see just what a powerful combination Lincoln and Waze make.