Your car is likely used numerous times each week as you rely on it to get around. Over time, the vehicle can suffer from wear and tear or damage. If you want to maintain your car's value, there are a few important tips to follow.
Polish Faded Headlights
Over time, the headlights on your vehicle can become faded due to exposure to environmental elements in each season. Exposure to the sun can also diminish the clarity of the headlights and cause them to become yellow, which can cause the vehicle to look old. You can have the headlights polished by visiting an auto detailer to ensure that they look new again.
Keep Your Service Records
It may not seem to be important to keep your receipt each time you get an oil change or a tune-up, but the records will prove to be valuable when it's time to sell the vehicle. Keep your service records each time that the car is repaired or maintenanced to prove that you took good care of the vehicle in recent years. You can computerize the records or store them in your glove compartment to make them easy to access when buyers test drive the car. If you haven't been keen on keeping your receipts, consider contacting the auto shop where you've had the car serviced to obtain the necessary documents.
Keep it Covered
Keeping the car covered is an extra step to take to maintain its value and prevent wear and tear on the body. Park it in a garage to ensure that it sits in a climate-controlled environment where it's not exposed to the elements. If you have to park it outdoors, opt for using a car cover when it's not in use, which will also reduce its exposure to the sun.
Maintain the Exterior
You'll need to maintain your car's exterior over time, which determines its overall quality and value. Wash the car once each week to remove dirt and grime that settles onto the surface of the paint. You'll also need to paint over any areas that have rusted on the body of the car. Waxing the car is also necessary two to four times each year to maintain its shine and protect the exterior from environmental elements. If dents or scratches develop, touch it up with paint to cover up any blemishes that can affect its value.
Keep the Interior Clean
Your car's interior should stay clean to ensure that it doesn't look worn or dirty once you're ready to sell it. Vacuum the car once or twice each month to remove crumbs or dirt. Conditioning leather seats are also necessary to prevent them from cracking or peeling. Detailing the car every six months can also be performed.
Drive it Enough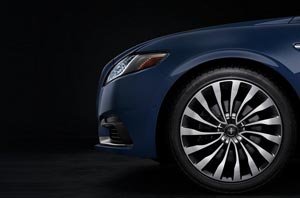 The mileage on the vehicle significantly influences what the car is worth, making it necessary to drive it enough, but not too much. Too low of mileage can affect how well it operates if it sits too much. Take it out at least three times each week to ensure that the engine continues running well. You also need to avoid adding more than 15,000 miles to the car each year, which can cause it to depreciate significantly.
If you want to learn more about how to maintain your car's value, you can contact us today to speak to one of our team members. We'll provide you with more information and can also discuss financing options that are available at Gwinnett Place Lincoln.